Polystyrene Foam
Manufacturers of co-extruded and mono-layer polystyrene foam supplied to end users around the world.
Polystyrene Foam
Manufacturers of co-extruded and mono-layer polystyrene foam supplied to end users around the world.
Previous
Next

Co-extruded Polystyrene Foam
Co-extruded, shrinkable polystyrene foam used as facestock for food and beverage labels providing insulating (hot and cold) properties, cushioning for glass bottles and tamper evident applications.

Hair Highlighting Strips
Polystyrene hair highlighting strips have a beautiful aesthetic appearance that cannot be matched by aluminium.

Polystyrene Anti-Slip Tray Mats & Non Skid Tray Liners
Avifilm manufactures polystyrene non-slip and anti-skid tray mats/liners and sheets for commercial airlines and enterprises around the world.
Working for a cleaner planet

We recycle and re-use all our polystyrene waste – edge trims, start up material, rejected rolls, tray mats and hair strips. All our products are recyclable.

Our primary blowing agent is nitrogen, an environmentally friendly natural gas with no Global Warming Potential (GWP).

Our product has no paper content and therefore does not contribute to the destruction of rain forest.

Successful installation of a Roof Mounted 300 kWp Photovoltaic System which will enable us to reduce our CO2 footprint in line with our Environmental Policy.
What we do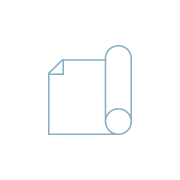 Avifilm Export Corporation is Europe's leading manufacturer of co-extruded and mono polystyrene foam and this experience enables us to provide total assurance to our clients that we will provide what they want.
Whether it is the anti-slip affect for the tray mat, the thermal properties of the hair wrap, the printability of the insulative labels or the tamper evident quality of the facestock, we can assure our clients that our experience and knowledge base will enable us to provide a solution for any requests in our field.
Plasti-Shield® and Co-Extruded Polystyrene Foam
In 2013 Avifilm Export Corporation bought the extrusion plant and client base of GERRO PLAST GMBH LABELS, incorporating Plasti-Shield® amongst other grades of co-extruded polystyrene foam. Our Plasti-Shield® and co extruded polystyrene foam is supplied on the roll in varying sizes, depending on the requirements of the end users. We have minimum and maximum roll diameter and width which is our only constraining factor, otherwise we pride ourselves on our flexibility to provide what the client wants. Our co-extruded polystyrene foam is only available in white as in all cases it is printed upon.
Our co-extruded polystyrene foam can be supplied as printed, unprinted, cut to various sizes in square or round corners or on the roll and in a vast selection of colours. The two main applications for this co-extruded roll are inflight food tray mats and hair highlighting wraps. If you have any other end application requests please let us know and we will be happy to investigate the possibilities together.
Contact Us
Avifilm Export Corporation Ltd
Factory:
Factory Sub 035
San Gwann Industrial Estate
San Gwann SGN3000, Malta
Tel: (+356) 2704 2525
[email protected]
Main Office:
60 South Street
Valletta VLT1103, Malta
Tel: (+356) 21 244306
Fax: (+356) 21 233093